NEONSIGNS.HK
An online exhibition that turns crowdsourced neon signs into an interactive map
Neonsigns.hk is an online exhibition presented by the M+ museum from the West Kowloon Cultural District in Hong Kong. The website features an interactive map that crowdsources neon sign photos submitted by the public. The online exhibition also contains essays, video documentaries, photo galleries, and a timeline, telling an in-depth multimedia story about neon signs' history and development.
The site builds a database of neon signs from the public, which can reveal patterns about the neon's geographical distribution, and the M+ museum is using the site's tagging system for research in the long run. Concurrently, the online exhibition raises the awareness of one of the threatened features from Hong Kong's streetscapes.
#hkneon
Neonsigns.hk provides an opportunity for users to digitally discover the neon signs in the city of Hong Kong. The public can easily submit photos of the signs to the neon map via Instagram, which are then organized by their corresponding districts and categories for others to explore in different, meaningful ways. The public can experience the neon signs erected in the streets of Hong Kong and help to digitally archive them via the crowd-sourcing capability of neonsigns.hk. Through the multimedia content in the online exhibition, the public gets exposed to more in-depth knowledge and stories behind the neon signs in different visual and cultural contexts.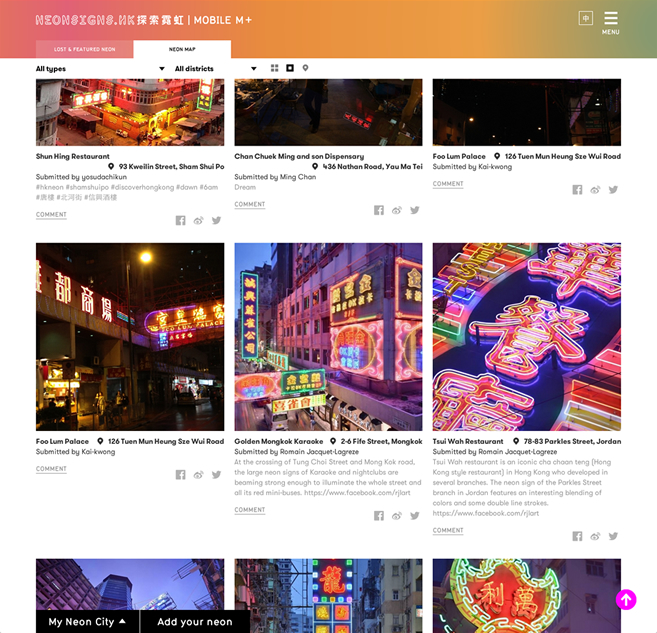 Neonsigns.hk has received attention from a wide range of news outlets locally and internationally. Covered from design and culturally focused online publications such as FastCoDesign and Hypebeast, to established channels such as CNN, the Wall Street Journal, and the Financial Times, the online exhibition digitally introduces neon signs from Hong Kong to the rest of the world.





Saving neon
Through the multimedia experiences, the online exhibition reintroduces the neon signs of Hong Kong in different contexts. Due to the advancements of technology, neon signs in the streets of Hong Kong are slowly disappearing, replaced by LED signs or multimedia displays. By raising the awareness and inducing the appreciation of these nostalgic glowing tubes, neonsigns.hk brings hope to find alternate roles for neon signs to live on as part of our culture.
Content contributors
The multimedia content on Neonsigns.hk are curated and contributed by professionals across the cultural facets. From renowned cinematographer and photographers to respected novelist and professors, the team provides rich content for the online exhibition in forms of artwork, essays, videos, audio walks, and image galleries.
Christopher Doyle
Cinematographer
anothermountainman
Artist / photographer
Kacey Wong
Visual artist / Assistant professor, Hong Kong Polytechnic University
Keith Tam
Typographer / Assistant professor, Hong Kong Polytechnic University
Christoph Ribbat
Professor, University of Paderborn, Germany
Yankwai Wong
Writer / art director of film
Lolita Hu
Writer / cultural observer
Yuen Che Hung
Local storyteller
Cédric Maride
Sound artist
Lawrence Pun
Novelist / cultural critic
Tobias Berger
Curator, M+